'The journey of a thousand miles begins with only a single step. You just need to a step to take forward.'
Bewitching Beauty of Gangtok!!
Gangtok is a fairyland destination among other mesmerizing places within North-eastern India. The capital city of Sikkim is an iconic hill station sitting in the lap of Eastern Himalayas. With the kind of natural beauty, Gangtok compels you to explore its charming places.
Snow-laden highlands, serene lakes, appealing valleys- all are in Gangtok, Wow!
An Exotic Trip to Gangtok…
'Not only boasts natural beauty, but Gangtok also has something extra!'
There are numerous places to visit in Gangtok which will blow your mind. During your trip, you can avail good budget hotels in Gangtok for a cozy stay. The most alluring places in Gangtok that you should not skip are-
1. Namgyal Institute of Tibetology!!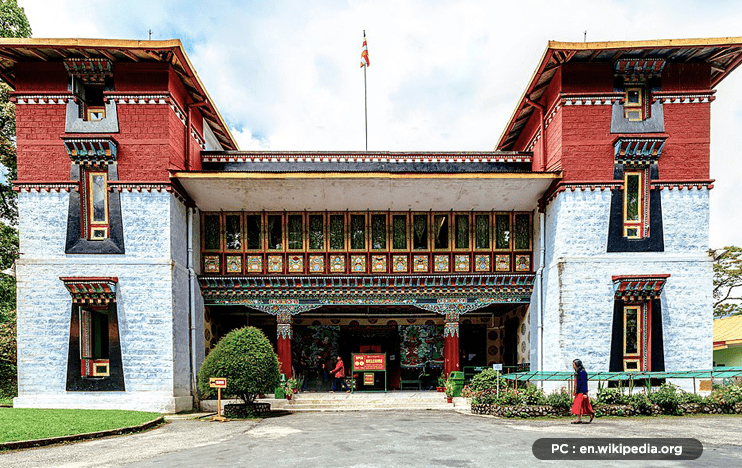 'The place where you learn to love'
It is an important Tibetan institute that carries on researches in the field of Tibetan language, art, religion, and its culture. The structure of institute is just like a traditional Tibetan architecture amidst lush greenery, which is a surely striking sight for you.
About Its Past…
This institute was inaugurated by the Prime Minister of India late. Pandit Jawaharlal Nehru on 1 October 1958.
The Unique Architecture…
It is embellished with golden lined towers, colorful frescos, attractive murals.
On its first floor, there is a Tibetan library that has the largest collections of Tibetan documents in the world.
There is a majestic image of Manjushri 'the Bodhisattva of knowledge' that was brought from Tibet.
Things to see…
It has a Museum which has the unique collection of-
Statues
Coins
Masks
Thangkas
Tibetan artwork & objects
And ancient manuscripts
Best
Time
to
Visit
- Throughout the year
Distance
from
Gangtok
- 2 km
Opening
Hours
- 10 am to 4 pm (Monday to Saturday)
Entry
Fee
- INR 10 per person
Note
- Photography is not prohibited inside the museum.
2. Enchey Monastery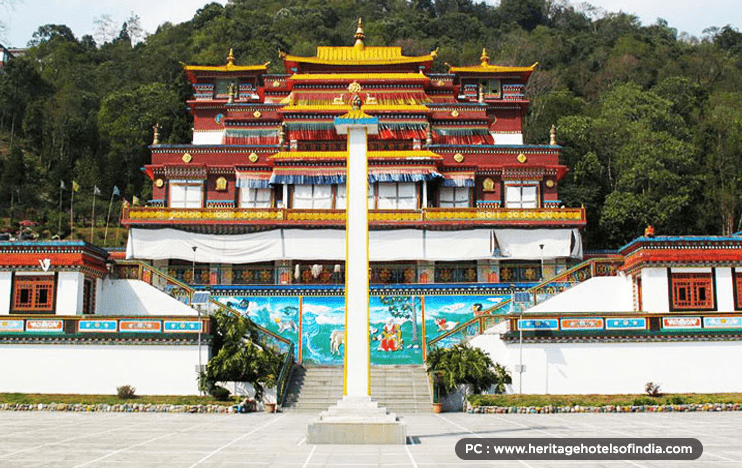 'A solitary temple with immense beauty'
This sacred Buddhist pilgrim is the mystical wonderland in Gangtok. The tall pine trees and the exhilarating flower-bedecked meadows infuse the devotees with the feeling of being amidst a blessed environment.
About Its past…
It is 200 years old Monastery and boasts a unique history-
It is an important seat of Vajrayana school of Buddhism.
It is believed that a renowned tantric, Lama Druptob Karpo constructed a hermitage at this mesmerizing location.
Later, it had been renovated in Chinese pagoda style under the reign of Sidkeong Tulku as Enchey Monastery.
At present...
This monastery is home to 90 monks.
The prayer hall inside contains several images of God, Goddess, and Tantric murals.
There is a wheel of law hat gurgles in perfect symphony with the monks' chanting.
Things to See…
You can witness the famous Chaam dance, which is organized on the 18th, 19th day of the 12th lunar month of the Tibetan calendar. The monastery also celebrates the Pang Lhabsol festival; a common festival that you must visit while you are here.
Best Time to Visit
- September to October
Distance from Gangtok
- 3 km
Opening
Hours
- 9 am to 6 pm
Entry
Fee
- Free
Note
- Photography is not prohibited inside the museum.
Whether you seek adventure or spirituality, a honeymooner or planning trip with friends, these places have something for everyone. Pick the best hotel in Gangtok through online booking for a comfortable stay during your family trip.
---