Immersed in serenity and embraced by nature's ineffable charm, Ravangla displays the aura of a peacefulness and bliss. This little town breathes in the reinvigorating Himalayan air that gleefully nudges the sleepy corners and the quaint villages. This adorable region in the south Sikkim is known for attracting countless travelers. Located at a distance of 2.5 hours scenic drive from the capital city, the travelers willing to halt in Gangtok can indulge in amazing activities in Ravangla for a memorable vacation.
Where to stay?
Though there are numerous alternatives for accommodations at Ravangla, visitors who are willing to halt in Gangtok can book
hotels in Gangtok Sikkim
. The quaint capital has a wide range of hotels at various budget ranges. If anyone is traveling solo and looking for
budget hotels in Sikkim Gangtok
, one can find plenty of budget range hotels in town.
Recommended hotels in Gangtok Sikkim
Delight hotels- Offering the accommodation facilities in an ambiance like that of your home you can avail luxury, mid-range, and budget range accommodation here. Step in to enjoy the state of the art service at great discounts on
hotel rates in Gangtok Sikkim
exclusively at Delight Hotels. The best thing about booking your accommodation here is, they even organize tours, car rentals for you.
1. Come face to face with the world's 3rd largest Buddha statue at Buddha Park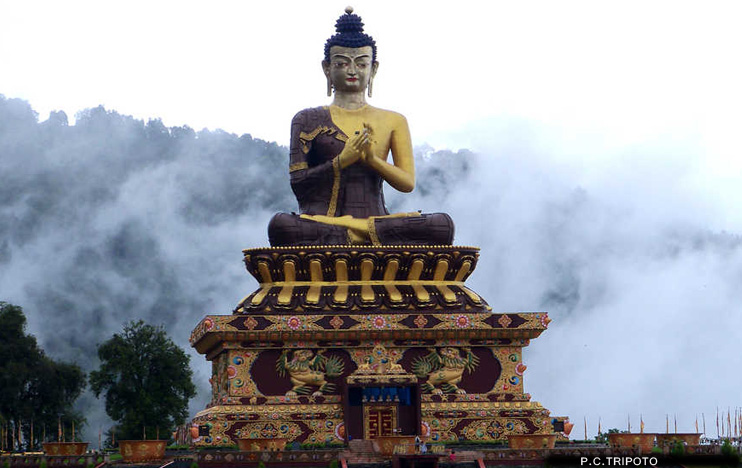 With 3kg gold plated face, the 130 ft tall statue of Buddha is a major attraction in Ravangla. Established in the centuries-old pilgrimage site and the complex of the Rabong Monastery, this enormous golden hued statue of Buddha in a meditation posture marks the 2550th birth anniversary of Buddha.
Opening hours: 9 am- 5 pm
Distance- 1 km from Ravangla Town
Entry fee: INR.50 for Indians/ INR. 100 for foreigners
Best time to visit: October to May
Highlights: peaceful ambiance, enchanting Himalayan backdrops, lush green surroundings
2. Discover your peace in the Old Ralang Monastery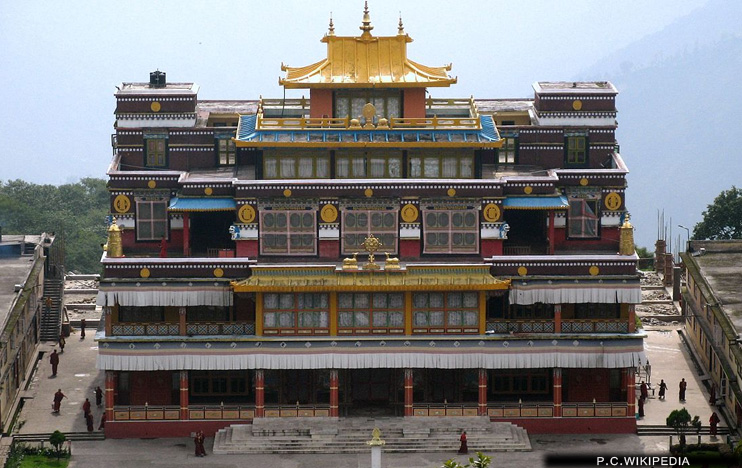 Considered one of the most sacred places by the Sikkimese, the Old Ralang Monastery was built in 1768 when the 4th Chogyal King annexed Tibet. Though smaller than the new monastery, the old monastery bears its own ancient charm.
Location: 1 km from the New Ralang Monastery
Opening hours: 8 am-5 pm
Entry fee: Free
Best time to Visit: Throughout the year
Highlights: Ancient traditional charm, peaceful ambiance, Mask dance (15th July), Annual Dance Festival and Lossong Fair (December)
3. Take a reinvigorating bath at Ralang Hot water spring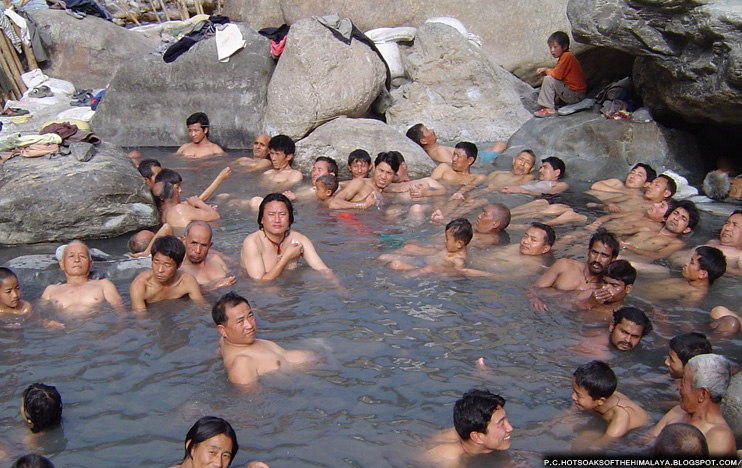 Possessing a wide range of healing properties, hot water springs are globally well-known among the naturalists, the believers of alternative healing, and nature lovers. As roads are not that good, it may take time to reach the spot. However, you can also trek to the hot springs.
Distance: 4km from Naya Bazaar
Opening hours: always open
Entry fee: Not Applicable
Best time to visit: September to May
Highlights: Trekking, hiking, immersing and relaxation in the hot springs, bird watching
4. Embrace peace at Palchen Choeling Monastic Institute or, New Ralang Monastery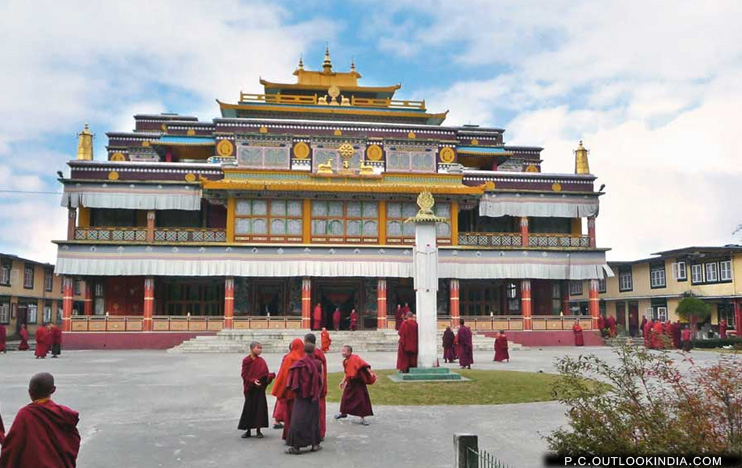 Established in 1955, New Ralang Monastery is one of the largest monasteries in Sikkim and is a home to 500 monks. It even serves as the occasional residence of Gyaltsap Rinpoche, one of the respected personalities of Kagyu Buddhism sect. The serene ambiance of the monastery is further enhanced by multi-colored prayer flags and vast swastika imprinted courtyard.
Distance: 10 km from Ravangla Town
Opening hours: 8 am- 5 pm
Entry fee: Free
Best Time to visit: Throughout the year
Highlights: Serene surrounding and breathtaking backdrops, 2 floors high shining Buddha, Mahakala Dance (November), Pang Lhabsol Festival (August)
5. Get enchanted by the serene appeal of Doling Gompa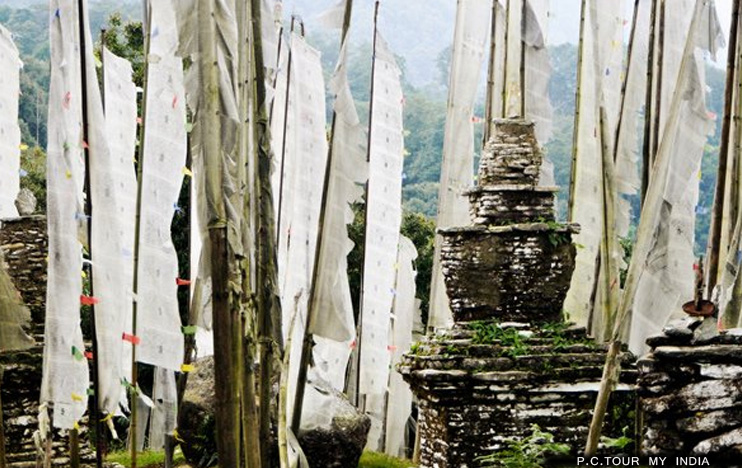 Built-in 1718 by Ringdzin Longyaang, this ancient monastery holds a special Buddhist religious significance. The rock in front of the monastery bears the foot mark of the horse of the local guardian deity and Dorjelingpa. The descendants of Ringdzin Longyaang look after the monastery and its premises.
Distance: 6 km south of Ravangla Bazaar
Opening hours: 8 am – 5 pm
Entry fee: Free
Best time to visit: Throughout the year
Highlights: Paintings of Manjushree, Dorje Limpa, Vajra Pani/ bird watching, sunset view, trekking, fishing
6. Witness the mesmerizing break of dawn at Rayong Sunrise Viewpoint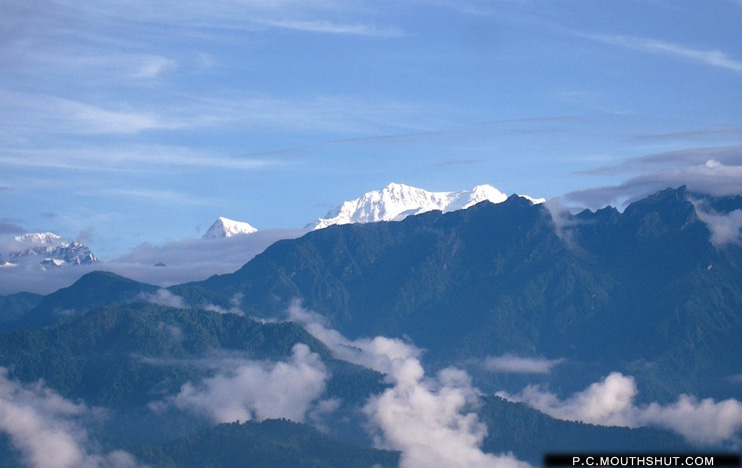 Standing at an elevation of 6, 700 feet, this sunrise viewpoint not only mesmerizes you with the stunning sunrise but also offers you the panoramic view of Bhutan's Chola and Sangalaila mountain ranges. You will witness the sun rising up from behind the Chola Mountains, and indulge in the treks amid the Rhododendron fields at Tinkitam.
Location: 8 km from Ravangla Town via Damthang Road
Opening hours: reach before 4: 30 am- 5 am
Entry fee: Free
Best time to visit: October - May
Highlights: Engrossing sunrise, nature walk, bird watching, hiking
7. Enjoy the enrapturing sights and serenity from the Mangrue Gompa Viewpoint
Obtaining its name after the charming little monastery Mangrue Gompa, this viewpoint offers the breathtaking view of the lush green valleys, mountains, and distinct view of the Singalila Mountains, the statue of Buddha Park, Kailash Nath Statue. Not only sightseeing, but this place also offers spiritual experience.
Location: 8km from Ravangla town via Damthang Road
Opening hours: Early morning hours- 6 pm
Entry fee: Free
Best time to visit: August to May
Highlights: The alluring panorama of Mount Kabru, Mount Jopuno, Mount Narsing, Mangrue Monastery
8. Indulge in trekking to the enchanting Maenam Hill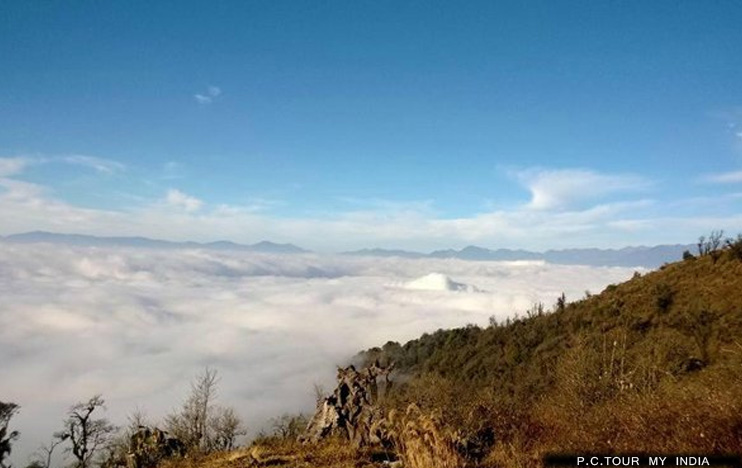 Maenam means 'treasure house of the medicines' and the region is richly abounding with invaluable medicinal plants. The region is the abode to the exotic Himalayan flora and faunas and a large species of butterflies. A delight to the adventure seekers and nature lovers, a trek to Maenam Hill rewards with an exhilarating experience.
Elevation: 10, 300 feet
Trekking origin: Ravangla
Trekking distance: 9 km to reach the peak
Trekking permits: Home Department, Government of Sikkim
Best time to trek: October to May
Highlights: Rare species of medicinal plants, bird watching, rare species of Himalayan animals- Red Panda, Black bear, Rhododendron bloomed forests (April-May), breathtaking views of Kanchenjunga peaks, lower plains of Bengal, Darjeeling Hills, Kampong Hill stations.
9. Saunter amid the realm of greens amid the stunning Temi Tea Garden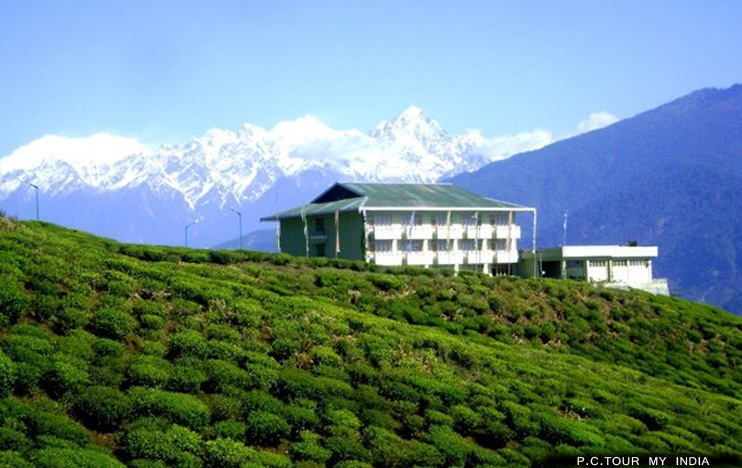 Offering the irresistible views of Kanchenjunga Peaks and Singalila Ranges, Temi Tea Garden is one of the fascinating places to visit in Ravangla. Drive through the appealing scenic roads through Dentham Road, the lush green realm promises a reinvigorating experience amid its fresh mountain air with heart captivating sights and serenity.
Location: 16 km from Ravangla
Opening hours: Always
Entry fee: Free
Best time to visit: Throughout the year
Highlights: Cherry blossoms, greenery, breathtaking backdrop of Himalayas, rivers, valleys
10. Spend a leisurely day at Ravangla Town meeting the locals, shopping, and relishing the lip-smacking cuisines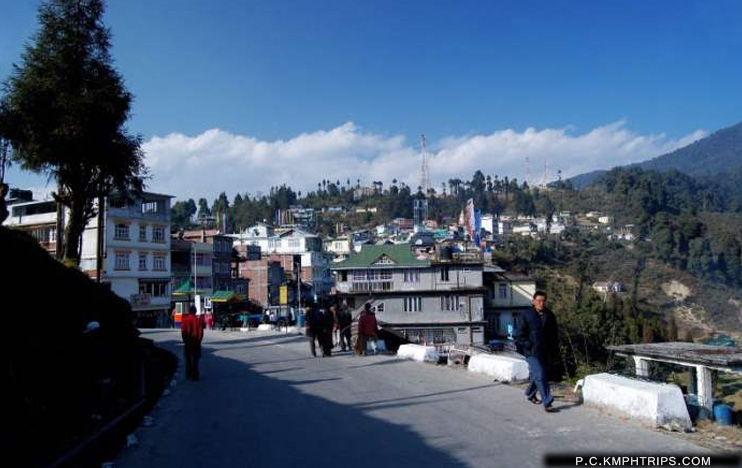 Hill stations are well known for the diverse range of lip-smacking cuisines, and Ravangla is no less as foods are concerned. The quaint town houses a number of eateries that serve the delicious Sikkimese, Tibetan, Chinese, Indian, and continental cuisines. As you'd be seeking for new things we recommend you surprise your taste buds with exclusive local Sikkimese and Tibetan platter.
The best place to eat in Ravangla: Tathagata Kitchen, Taste of Sikkim, Kookay Restaurant
Best foods to try in Ravangla- Exotic, Sikkimese, Tibetan, and Nepalese Cuisine
Food prices: starts at INR. 200
Frequently Asked Questions:
How do I find the best hotels near Sikkim Gangtok?
Since Sikkim is a tourism-oriented destination, there is no dearth of accommodation facilities in Gangtok. If you're planning a trip on your own, then the easiest way to find
hotels near Sikkim Gangtok
is via online. You can even take help from the ones who have frequently been there. If you reach Sikkim without making a booking, you can even ask locals to help you out, as Sikkimese is truly helpful by nature.
Can I get discounts on booking luxury hotels in Gangtok Sikkim?
Due to immense competition in the hospitality industry, countless hotels worldwide claim to offer great discounts on luxury booking, but they do not reveal about the hidden charges behind the discounts they claim to give. So, it is necessary for you to be aware while booking online. For reasonable price/ rates on
luxury hotels in Gangtok Sikkim
, book with Delight hotels. No hidden charges, less price assured.
---