We've all heard about riding a horse or a camel or an elephant, how about riding a Yak this time? Sounds exciting, right?
Well if you are in Gangtok, you should definitely try out this activity. Get an exclusive opportunity to ride this docile animal of the hills. The locals out there earn their livelihood through this activity, and the tourists enjoy a completely different experience. If not comfortable doing that, you can at least have some good clicks with the humongous creatures of the mountains!
Soak into Fascinating beauty of Gangtok!!
Lofty Himalayan peaks, tranquil glacial lakes, and holistic weather define the beauty of Gangtok, which proudly sits as the capital of Sikkim. With the kind of natural beauty, Gangtok compels you to explore its charming places and enjoying a wide range of adventure activities.
Yak - The Himalayan Camels!!

During the severe winter season, when the hilly tracks are completely covered with snow, yaks can go carrying heavy luggage for several days without food. This is the reason Yak are called Himalayan Camels. The unique feature they hold-
• Yaks are slow bulky built animals.
• They can stand up to 5.2 to 7.2 ft tall.
• Yaks are physically adapted to high altitudes and are usually domesticated.
• They are covered in long hair to protect them from cold.
• They are decorated with colourful ribbons tied to their horns.
Witnessing the charismatic view of the mountains and the lakes from the back of a Yak is surely something that you will never forget!
Sikkim's Places to Enjoy Yak Safari!!

Have a look at below of the best places to explore on a Yak Safari in Sikkim-
1. Tsomgo Lake: Situated at an altitude of 12,400 feet, it is a beautiful lake surrounded by snow-covered mountain peaks.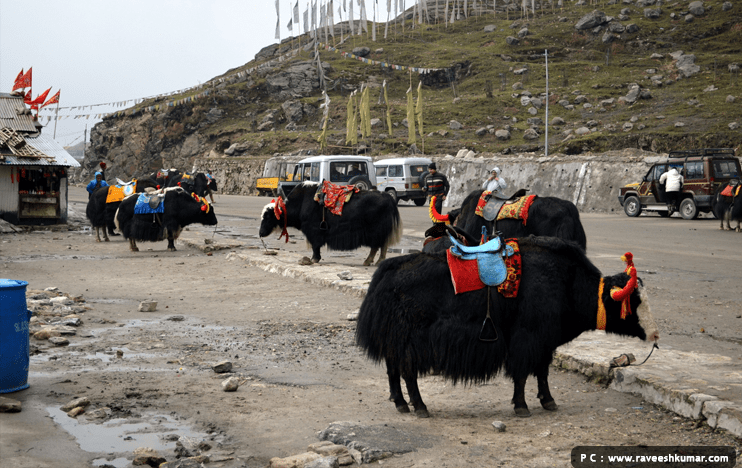 How to begin the Yak Safari from here…
Take a vehicle to reach the Tsomgo Lake. You will find there are various beautifully decorated yaks which are standing in a line.

Areas covered in the Yak Safari…
It will depend on the route you choose! We strongly recommend you to head towards Kemthang, where you'll feel like a royal riding atop the Yak along the snow-covered trails.

How long will the Yak Safari last…
The duration of the safari depends on the destinations you choose and it will take twenty minutes to an hour.
2. Dzongri Lake: Surrounded by mesmerizing mountains and perched at an altitude of 13,800 feet, this lake is something which blows your mind by its beauty.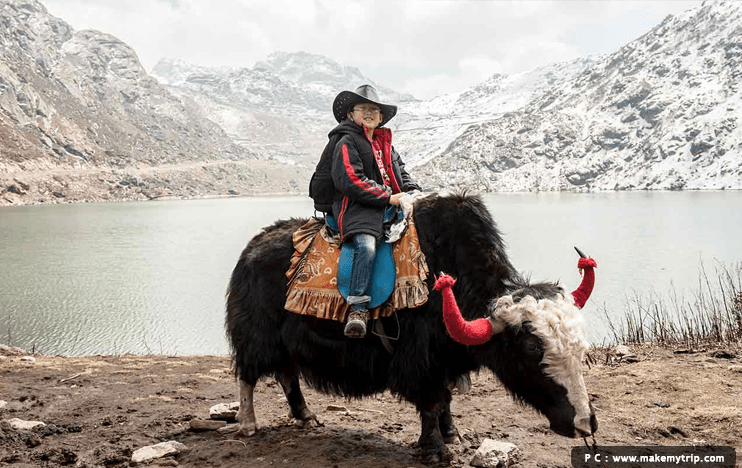 How to begin the Yak Safari from here…
A 2 Yak Safari can be arranged while trekking from Yuksom, situated at 5800 feet to Dzongri.
How long will the Yak Safari last…
It depends on the route you choose which can be more than two days.
Yak Ride's Cost!!
At Dzongri Lake-
Yak Ride: INR 300 per head
Yak Photos: INR 50
At Tsomgo Lake-
Yak Ride: INR 450 per head
Yak Ride Up to Kemthang: INR 250
Yak Photos: INR 20
This animal offers you a ride around Tsomgo Lake and treats your eyes to the scenic beauty!
Have a Pleasant stay in Gangtok!!
No trip will be memorable without staying in cozy hotels!
There are numerous hotels in Gangtok such as Delight The Fortuna, Delight Sushanta Awaas, and Delight Sernya where you can stay very comfortable within budget. Among them, Delight Hotels Sernya, Gangtok is located close to MG Marg opposite to star cinema hall is the most favored hotel to stay with family during the trip.
Note: No one seems to miss a photo session atop the Yak, a perfect memento to take back home of your visit to Sikkim with a unique experience.
Popular FAQs
Q. Do we have to book the Yak Safari in advance?
A. Yes, you should book your safari in advance as it is organized by either Sikkim Tourism or by a number of specialized operators.
Q. Which is the best time for Yak Safari?
A. The best time for Yak Safari is from March to May.
---